Neelakurinji Plantation Bungalow
A perfect spot of virgin paradise, 'Neelakurinji Plantation Bungalow' is an homestay situated in a tourist­friendly stretch of Munnar against the backdrop of hills, boulders and cardamom plantations. This helps it radiate the kind of millennia old charm which has made Munnar a paradise of sorts among travellers worldwide. The property is conveniently located away from the town centre, yet is close to several key tourist spots, streaming waterfalls and numerous trekking routes. One can spot sprawling fields of spice & tea plantations enroute the homestay.
Facilities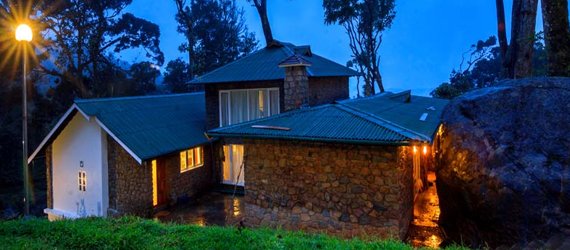 The bungalows on offer have been designed keeping in mind the ecological and aesthetic characteristics of the surrounding landscape. Utmost priority has been given to preserve the natural habitat of the fauna and avian species that are endemic to Munnar and which make the property a haven of comfort.
Stone­clad and with the interiors of a cosy monastery, the bungalows are fitted with all modern amenities to let you have a comfortable stay. There is ample scope for adventure, leisure and heritage within the property itself, thanks to the presence of gigantic rocks, their hidden caves, centuries old trees, natural streams of water and thinly shaded plantation walkways. Efficient personal service and complete privacy are the virtues which our staff aim to serve you with. Neelakurunji Plantation Bungalows is your home amidst the hills of Kerala.
Places to Visit
Top Station­ 37km from Munnar on the Kerala and Tamil Nadu border, has great views of the Western Ghats. Top station is the "top"­tourist attraction. This place gives a real 'above the clouds' experience. The area is known for the Neelakurunji plant, which flowers only once every twelve years.
Echo Point­ 15km from Munnar, on the way to top station from Munnar is a small lake set amidst rolling hills. Every loud call made from a spot on the lake embankment is returned manifold by the echo from the surrounding hills.
Eravikulam (Rajamalai) National Park­ 45 mins from Munnar. See Nilgiri Thar (Hemitragas hylocres) ­ an endangered species of mountain goats, rolling grasslands and sholas, spread over 97 sq km in the Rajamalai hills, rare flora and fauna, Atlas moth (largest in the world), lion­tailed macaque, leopards, tigers, The Kurichi or Neelakurinji Flowers turn the hills of Rajamalai.
Anamudi Peak­ The highest peak (2695 m) south of the Himalayas, towers over the sanctuary in majestic pride. The slopes of the hills abound in all kinds of rare flora and fauna. The Atlas moth, the largest of its kind in the world, is a unique inhabitant of the park. Other rare species of fauna found here are the Nilgiri Langur, the lion­tailed macaque, leopards, tigers, etc.
Mattupetti Dam­ 10km from Munnar, this popular picnic spot activities like boating and horse riding and is a great place to spend the day especially if visiting with children.