IN AND AROUND MUNNAR
Anayirangal (22 kms from Munnar):

It's a lush green carpet of tea plants. A trip on the splendid reservoir is an unforgettable experience. The Anayirangal dam is surrounded by Tata Tea plantations and evergreen forests. It is an ideal picnic spot.

Devikulam (7 kms from Munnar)
This idyllic hill station with its velvet lawns , exotic flora and fauna and the cool mountain air offers a rare experience to visitors. The Sita Devi lake with its mineral waters and picturesque surroundings is a good picnic spot. The lake is also ideal trout fishing.
Valara (10 kms from Adimali on the Kochi-Madurai highway)
Valara has a chain of waterfalls surrounded by
thick green forests.
Marayoor (40 kms from Munnar)
This is the only place in Kerala that has a natural growth of sandalwood trees. The sandalwood factory of the forest department, the caves(muniyaras) with the murals and relics from the New stone age civilization and the children's park spread across a hectare of land under the canopy of a single banyan tree, are of great interest to tourists. Thoovanam waterfalls and Rajiv Gandhi National Park are also nearby.
Cheeyappara
The Cheeyappara and Valara waterfalls are located between Neriamangalam and Adimali on the Kochi - Madurai highway


Top Station (32 kms from Munnar)
1700 Mts above sea level , this is the highest point on the Munnar-Kodiakanal road. The rare Neelakurunji (strobilanthus) belongs to this region. Top Station (a viewing point) also offers a panoramic view of neighbouring state of Tamil nadu.

Echo Point (15 km from Munnar)
This scenic place gets its name from the natural echo phenomenon here. Echo point is on the way to Top Station from Munnar.

Meenuli
It is noted for 2 acres of evergreen forests upon a huge rock. The rock is more than 500 acres in area and an ideal spot for mountaineering.

Malankara Reservoir (6 kms from Thodupuzha)
Located on the Thodupuzha - Moolamattam road, this artificial lake is accessible by road. 
The reservoir is ideal for boating and fishing.

Thommankuthu waterfalls (17 kms from Thodupuzha)
The seven step waterfall here is a much loved picnic spot . At each step there is a cascade and a pool beneath . Thommankuthu is an ideal place for adventure tourism. (This is also a tricky spot and visitors are advised to exercise caution !)

Nadukani (25 kms from Idukki)
Moolamattam town , Malankara lake etc. can be viewed from the high pavilion situated here.


Kalvari mount
This is a famous pilgrim centre on the way to Kattapana.

Palkulamedu (12 kms from Idukki)
Kochi, Allapuzha and other nearby towns can be seen from this peak at 3125 mts above sea level.

Chithirapuram (10 kms from Munnar)
With its sleepy little cottages, bungalows, old play grounds and courts, Chithirapuram still exudes an old world charm. Home of the Pallivasal Hydel power project, this hill town is also famous for its picturesque tea plantation.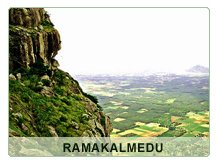 Ramakalmedu (16 kms from Nedumkandam)
Rolling green hills and fresh mountain air make Ramakalmedu an enchanting retreat. The hilltop also offers a panoramic view of the picturesque villages of Bodi and Kambam on the Eastern slope of the Western ghats. One can enjoy the splendid beauty of nature. This is an ideal place for trekkers and mountain climbers.

Chinnar Wildlife Sanctuary (60 km from Munnar)
Situated on the Tamil Nadu border, the Chinnar Wildlife Sanctuary is spread across 90.44 sq km.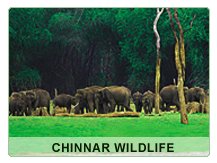 Animals
Most of the Southern Indian wild animals can be found in this forest. These include the grizzled giant squirrel, champal squirrel, elephant, sambar deer, gaur etc.

Birds
Jungle fowl, myna, laughing thrush, black bulbul, peafowl etc.